---
| | |
| --- | --- |
| Medical Policy: | V-44-017 |
| Topic: | Medical Nutrition Management Services (MNT) |
| Section: | Visits |
| Effective Date: | October 1, 2016 |
| Issue Date: | February 27, 2017 |
| Last Reviewed: | February 2017 |
| | |
---
Medical Nutrition Therapy (MNT) is an important part of prevention and treatment of many diseases and conditions. MNT is the assessment of the patient's nutritional status followed by therapy. The overall goal of MNT is to assist the patient in making changes in his/her nutrition and exercise habits leading to improved health through optimal nutrition.
This policy is designed to address medical guidelines that are appropriate for the majority of individuals with a particular disease, illness, or condition. Each person's unique clinical circumstances may warrant individual consideration, based on review of applicable medical records.

Policy Position
Coverage is subject to the specific terms of the member's benefit plan.
Medical nutrition therapy (MNT) is covered for certain conditions listed below. This list includes those diagnoses/conditions that most commonly benefit from MNT in improving desired health outcomes. (This is not intended to be an all-inclusive list.)
Human immunodeficiency virus (HIV) disease

Secondary diabetes mellitus

Diabetes mellitus

Nutritional deficiencies

Disorders of amino-acid transport and metabolism

Disorders of lipid metabolism

Disorders of mineral and calcium metabolism

Hyponatremia

Hyperpotassemia

Hypopotassemia

Cystic fibrosis

Other specified disorders of metabolism

Morbid obesity

Anorexia nervosa and eating disorders

Epilepsy and other convulsive disorder

Hypertensive disease

Ischemic heart disease

Chronic pulmonary heart disease

Cardiomyopathy

Heart failure

Myocarditis

Myocardial degeneration

Cardiovascular disease

Cardiomegaly

Gastric ulcer, duodenal ulcer, peptic ulcer, gastrojejunal ulcer, gastritis and duodenitis

Disorders of function of stomach and gastrostomy complications and other disorders of stomach and duodenum

Regional enteritis, ulcerative colitis, vascular insufficiency of intestine, other and unspecified noninfectious gastroenteritis and colitis, intestinal obstruction, diverticula of intestine, and functional digestive disorders

Colostomy and enterostomy complications, and other specified disorders of the intestines

Liver diseases, cirrhosis, and other diseases of the digestive system

Glomerulonephritis, nephrotic syndrome, nephritis, renal failure, infections of kidney, calculus of kidney and ureter, and disorder of bladder

Hypertension complicating pregnancy, childbirth, and the puerperium

Gestational diabetes

Osteoporosis

Congenital anomalies of the digestive system

Congenital anomalies of kidney

Symptoms concerning nutrition, metabolism and development
Medical nutrition therapy may also be covered for the management of obesity per the member's group or individual benefit program.
Procedure Codes
97802, 97803, 97804, G0270, G0271
---
Preventive medicine counseling, for patients with risk factors for diet related chronic diseases, is covered for the following:
Dietary surveillance and counseling; and
mixed hyperlipidemia, or

other and unspecified hyperlipidemia.
Procedure Codes
97802, 97803, 97804, 99402, 99403, 99404
---
When reported separately, charges for medical nutrition therapy should be combined with and processed under the appropriate medical visit procedure codes. If MNT is the only service performed, it will be reimbursed in accordance with the member's medical care benefits. Modifier 25 may be reported with medical care (e.g. visits, consults) to identify it as significant and separately identifiable from the other service(s) provided on the same day. When modifier 25 is reported, the patient's records must clearly document that separately identifiable medical care was rendered.
When the 25 modifier is reported, the patient's records must clearly document that separately identifiable medical care has been rendered.
---
See Medical Policy Bulletin Z-27 for information on Eligible Providers and Supervision Guidelines.
See Medical Policy Bulletin G-24 for information on the Treatment of Obesity.
See Medical Policy Bulletin E-15 for information on Diabetic Services and Supplies.
See Medical Policy Bulletin V-37 for information on Autism Spectrum Disorders.
Place of Service: Inpatient/Outpatient
Medical Nutrition Therapy (MNT) is typically an outpatient procedure which is only eligible for coverage as an inpatient procedure in special circumstances, including, but not limited to, the presence of a co-morbid condition that would require monitoring in a more controlled environment such as the inpatient setting.

The policy position applies to all commercial lines of business
Services that do not meet the criteria of this policy will not be considered medically necessary. A network provider cannot bill the member for the denied service unless: (a) the provider has given advance written notice, informing the member that the service may be deemed not medically necessary; (b) the member is provided with an estimate of the cost; and (c) the member agrees in writing to assume financial responsibility in advance of receiving the service. The signed agreement must be maintained in the provider's records.



---
Medical policies do not constitute medical advice, nor are they intended to govern the practice of medicine. They are intended to reflect Highmark's reimbursement and coverage guidelines. Coverage for services may vary for individual members, based on the terms of the benefit contract.

Discrimination is Against the Law
The Claims Administrator/Insurer complies with applicable Federal civil rights laws and does not discriminate on the basis of race, color, national origin, age, disability, or sex. The Claims Administrator/Insurer does not exclude people or treat them differently because of race, color, national origin, age, disability, or sex. The Claims Administrator/ Insurer:
Provides free aids and services to people with disabilities to communicate effectively with us, such as:

Qualified sign language interpreters
Written information in other formats (large print, audio, accessible electronic formats, other formats)

Provides free language services to people whose primary language is not English, such as:

Qualified interpreters
Information written in other languages
If you need these services, contact the Civil Rights Coordinator.

If you believe that the Claims Administrator/Insurer has failed to provide these services or discriminated in another way on the basis of race, color, national origin, age, disability, or sex, you can file a grievance with: Civil Rights Coordinator, P.O. Box 22492, Pittsburgh, PA 15222, Phone: 1-866-286-8295, TTY: 711, Fax: 412-544-2475, email: CivilRightsCoordinator@highmarkhealth.org. You can file a grievance in person or by mail, fax, or email. If you need help filing a grievance, the Civil Rights Coordinator is available to help you.

You can also file a civil rights complaint with the U.S. Department of Health and Human Services, Office for Civil Rights electronically through the Office for Civil Rights Complaint Portal, available at https://ocrportal.hhs.gov/ocr/portal/lobby.jsf, or by mail or phone at:

U.S. Department of Health and Human Services
200 Independence Avenue, SW
Room 509F, HHH Building
Washington, D.C. 20201
1-800-368-1019, 800-537-7697 (TDD)

Complaint forms are available at http://www.hhs.gov/ocr/office/file/index.html.

Insurance or benefit/claims administration may be provided by Highmark, Highmark Choice Company, Highmark Coverage Advantage, Highmark Health Insurance Company, First Priority Life Insurance Company, First Priority Health, Highmark Benefits Group, Highmark Select Resources, Highmark Senior Solutions Company or Highmark Senior Health Company, all of which are independent licensees of the Blue Cross and Blue Shield Association, an association of independent Blue Cross and Blue Shield plans.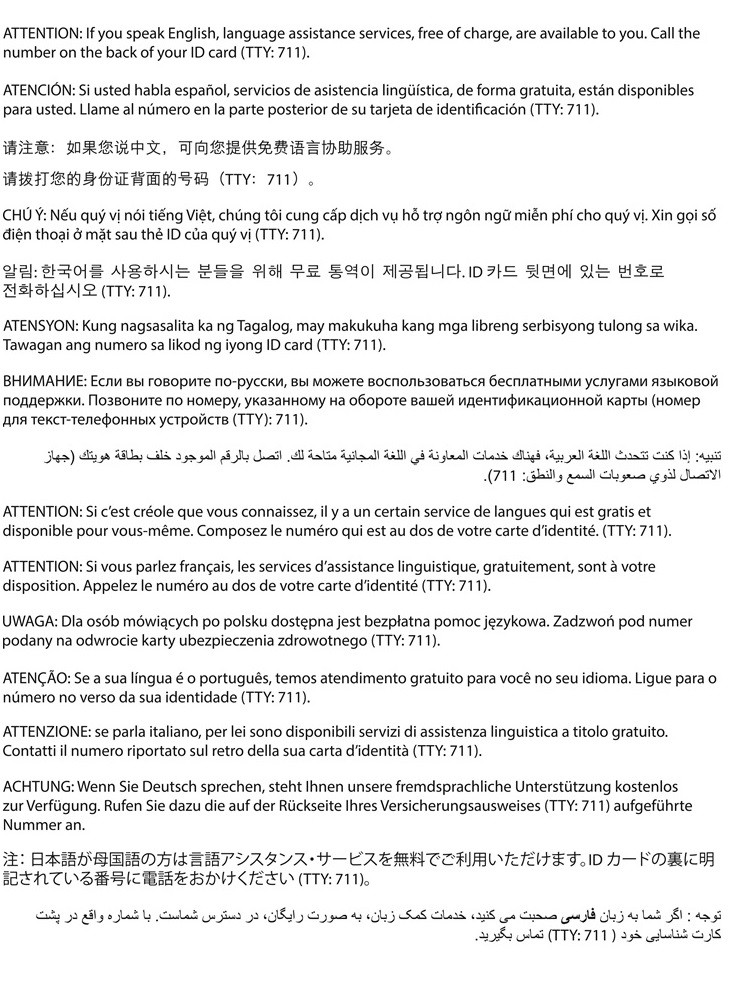 Highmark retains the right to review and update its medical policy guidelines at its sole discretion. These guidelines are the proprietary information of Highmark. Any sale, copying or dissemination of the medical policies is prohibited; however, limited copying of medical policies is permitted for individual use.